In February 2018, Macduff recieved a high commendation for their recently built vessel "Scotia" for ABP Ayr Harbour from the port authority themselves.
"We have been doing all sorts of things with her already, pilot duty, mooring assist in adverse weather. The boat handles very well and has very good sea keeping qualities, so far we have had no bother whatsoever we cannot praise her enough. The whole project has been a great experience start to finish and a tremendous peace of kit at the end of it."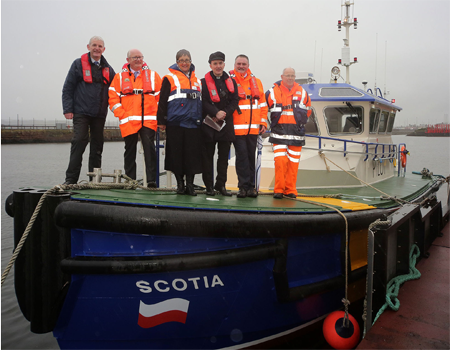 ---
In January 2018, Tor Marine has completed a 16.8m workboat based on the 14.9m general service vessels with an additional 1.9m lengthened section.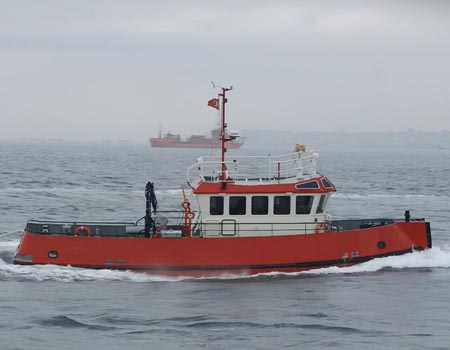 ---
In January 2018, The 16m tug building for Shoreham port has been turned ready for the wheelhouse to be fabricated and outfitting to begin.
---
In December 2017, The research vessel 'Aora' has been purchased and converted to the 'Rachel Carson' and has been transported to the University of Washington.
A note from the new owners :-
"We departed Macduff Shipyard 8 October for Hartlepool where we lay awaiting final shipping port and date confirmation. With the port and date assigned and a weather window open we crossed for Rotterdam on 19 October. Rachel Carson lay at Rotterdam until 28 October when she was loaded on M/V Transporter. Due to the late season there were no ships going direct to the Pacific Northwest. Transporter unloaded Rachel Caron in West Palm Beach Florida on 9 November. We moved the boat to Fort Pierce Florida, the only nearby port with both room and depth for Rachel Carson. We then moved her back to West Palm Beach to load on Industrial Skipper 1 December for transit to Victoria British Columbia. She was unloaded on 28 December and we completed the final leg on 29 December."
---
In October 2017, Macduff Shipyard number 680 - the "Audacious" has been launched and is being made ready for her tow to Macduff for outfitting.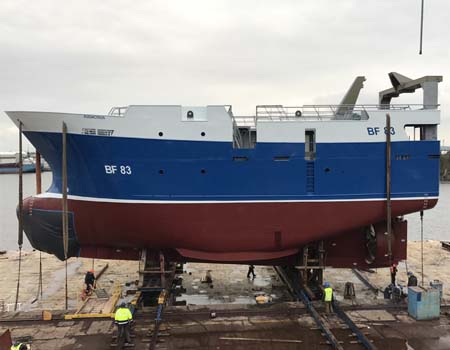 ---
In October 2017, The "SCOTIA" a 12.75m Pilot boat built for ABP Ayr Harbour has been launched and has undergone trials performing as expected. She has been accepted by her owners and is now on her way to begin working duties at her home port.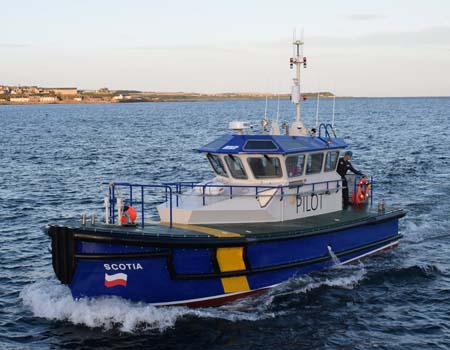 ---
In September 2017, The "Kiera Fiona" has undergone crane loading tests and is in the latter stages of internal outfit at Havyard in Norway.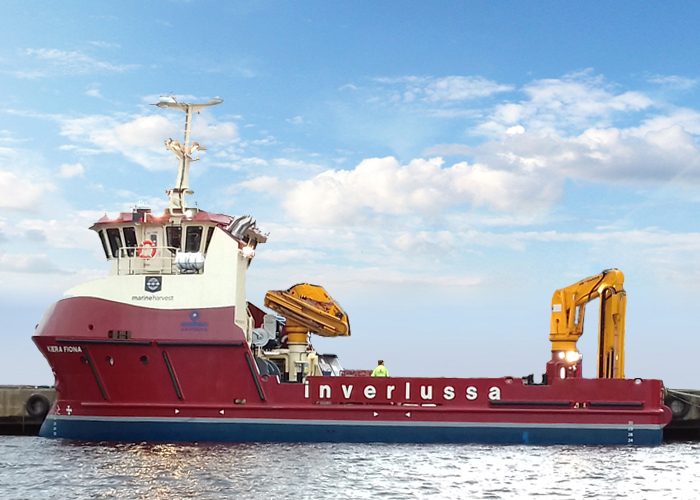 ---
In September 2017, A keel laying ceremony has taken place for the 90' fishing vessel "Atlantic Maximus" being designed and built in collaboration with Shipbuilding Asia Ltd in Vietnam, representatives from Macduff Ship Design were present during the signing.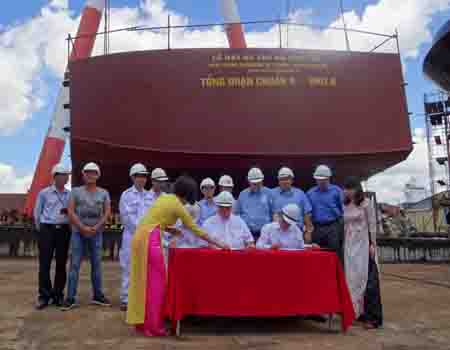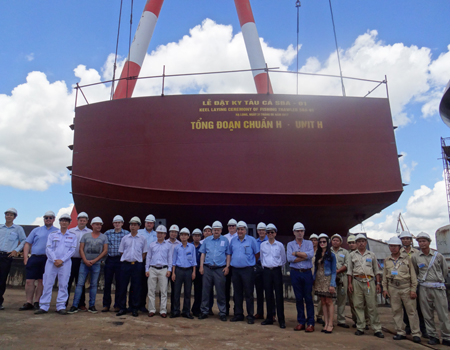 ---
In August 2017, The latest vessel "Kiera Fiona"building for Inverlussa Marine Services is well underway at Havyard, this is the fourth and longest vessel designed for the owners by macduff ship design.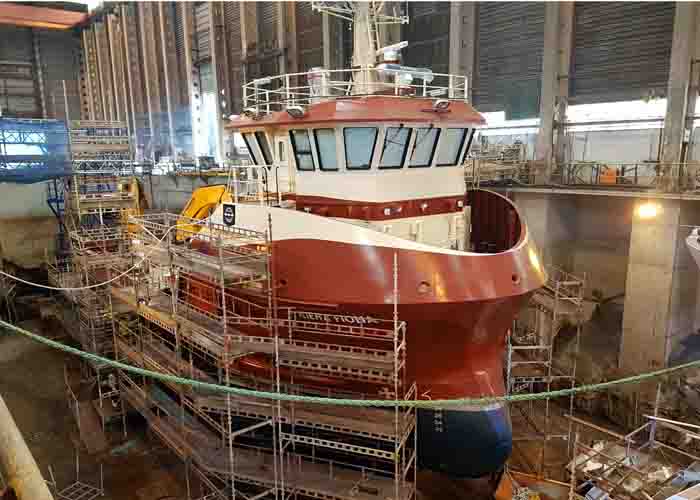 ---
In August 2017, Macduff Ship Design is pleased to announce that it has been commisioned to design a 14m mooring / line handler / general service tug by Cheoy Lee Shipyards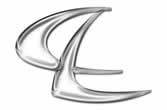 Cheoy Lee
---
In July 2017, The construction for a new Seiner has begun for Bruce Buchan the vessel lengthened during the design phase from 23.00m to 24.00m having a partial aluminium shelter top and aluminium wheelhouse.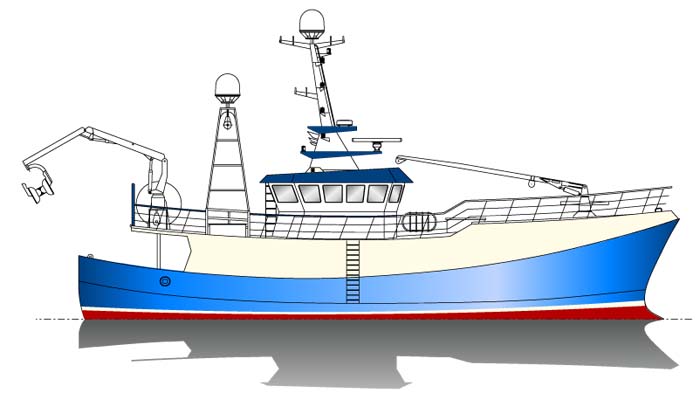 ---
In June 2017, The Gina Mary has completed trials and has been handed over to her delighted owners, Inverlussa Marine Services, this vessel is the third design by Macduff for the owners base on the Isle of Mull. The first two were built by Macduff Ship yards this near repeat vessel was built by Havyard in Norway and lengthened during construction by two meters to provide additional working capacities.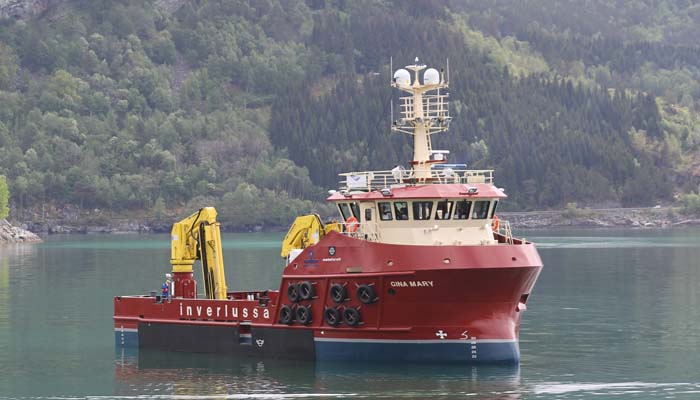 ---
In June 2017, construction of the 12.75m pilot vessel "SCOTIA" for ABP Ayr is progressing well with the Hull completed.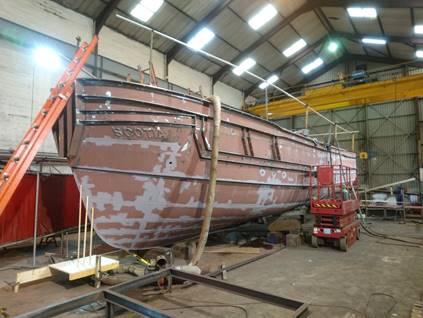 ---
In June 2017, Macduff Ship Design and Macduff Marine Surveyors will be attending the Seawork exhibition this year held at the Mayflower Park in Southampton 13th-15th June and we look forward to meeting customers past, present and future.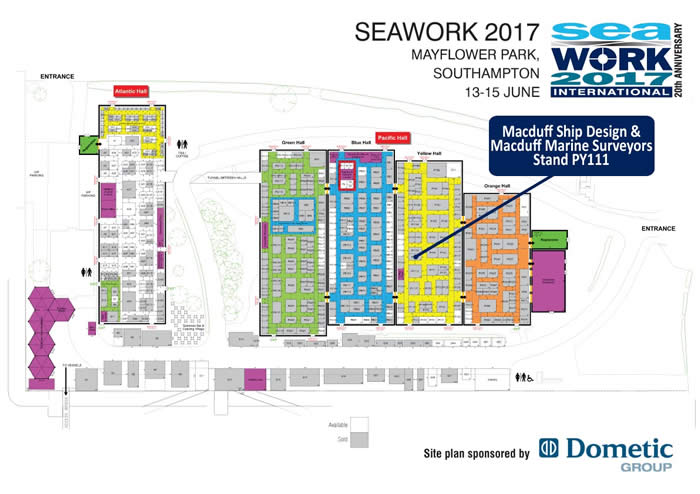 ---
BREAKING NEWS
Macduff Ship Design has opened a new division devoted to marine survey work Macduff Marine Surveyors offers a range of survey types to suit a variety of needs from the Marine sector.

---
In May 2017, Macduff Ship Design is in the initial design phase for a 90' fishing vessel for Canadian waters the vessel is being designed and built in collaboration with Shipbuilding Asia Ltd. Macduff is venturing into new waters with the Canadian owners to design a bold, new and fresh design.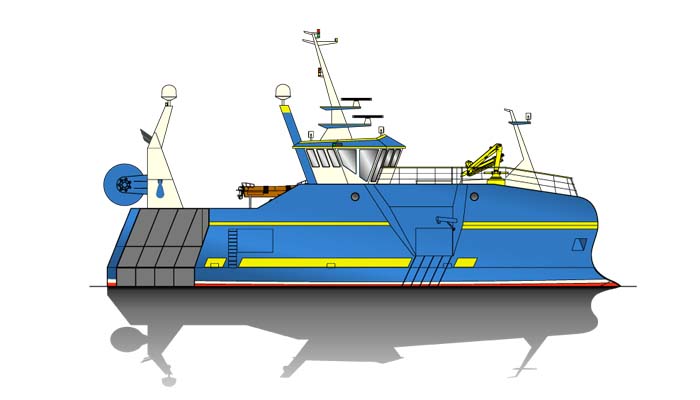 ---
In April 2017, Macduff Ship Design has been developing a design for Shoreham port a 16m Harbour Tug based on the incredibly successful Mcloughlin series of tugs.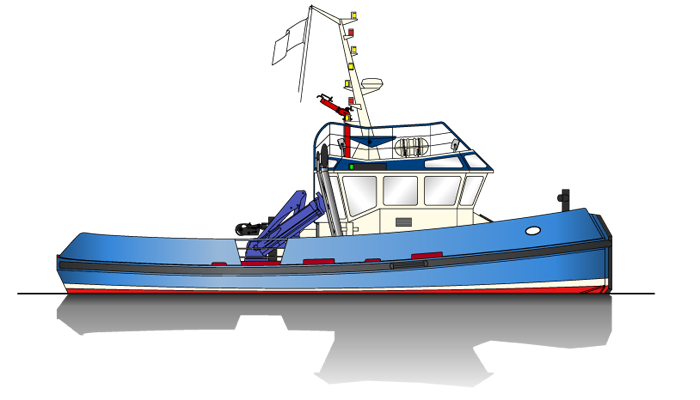 ---
In April 2017, Macduff Ship Design has been making rapid progress on the design of a further vessel for Inverlussa Marine services alreday named "Kiera Fiona", at 25.5m she is a near repeat of the "Gina Mary" currently in build, although she has extra length to allow for salmon treatment operations. This makes for the fourth vessel Macduff Ship Design has been commissioned from Inverlussa.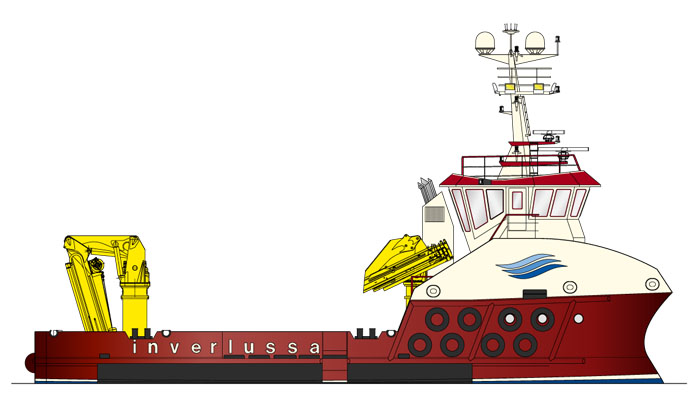 ---
In March 2017, The "Steadfast Hope BF 340" has been signed over to her new owners. The design was a repeat of the successful "Rebecca" with minor outfitting alterations, built by Macduff Shipyards, the kitting and cutting information was supplied by Macduff Ship Design.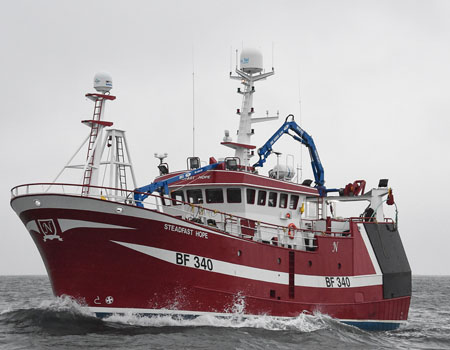 ---
In March 2017, The 23m Fish Farm workboat for Inverlussa Marine Services has increased in length during build to 25m to provide extra deck capacity, the steelwork for the vessel has made quick progress and she has been given the name "Gina Mary". Inverlussa Marine Services have also contracted a near repeat of this vessel with an additional lengthened section to provide greater deck space for salmon treatment operations.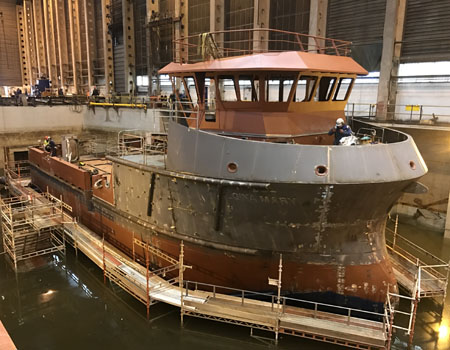 ---
In February 2017, Two 27m Pilot vessels have undergone sea trials achieving above contract speed and seakeeping performace, built by Tor marine, Turkey, and are due for delivery in March.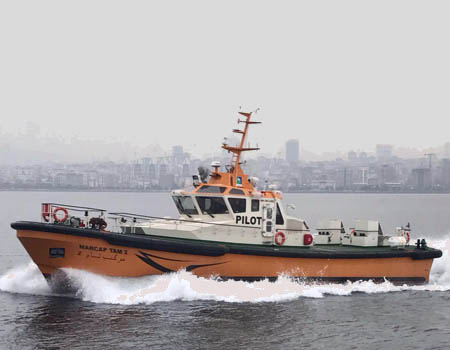 ---
In February 2017, The two 15m garbage collections vessels and one 15m dive vessel built by Tor marine, Turkey, are in the process of delivery to the port of Jeddah. Both vessels have the same hull but differences in the propulsion package and deck layout to suit their intended operations.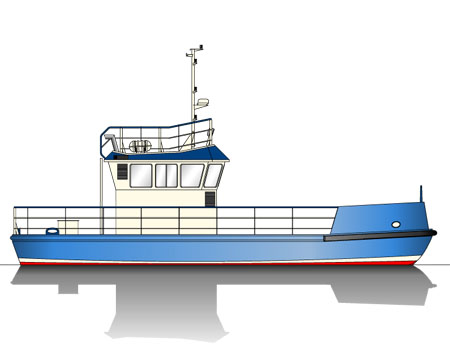 Garbage Vessel Dive Vessel
---
In January 2017, The 14.00m Catamaran Workboat "Lily Mae" built for Scottish Sea Farms has successfully completed trials achieving a top speed of over 10.0 knots and has been handed over to her owners, with a deck cargo capacity of 20t and deck area of almost 60sq.m she is ideal to carry out a variety of jobs. Macduff Ship Design provided steelwork construction drawings and cutting information for Macduff Shipyard and also undertook stability work for the vessel.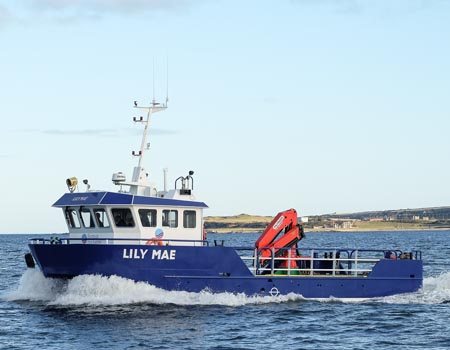 ---
In January 2017, Macduff ship design are pleased to announce a new contract for the design of a 12.75m pilot vessel for ABP Ayr. The vessel is to be built by Macduff Shipyards with Macduff Ship Design providing a full design and steel cutting package.
The vessel design is the result of a long development process to ensure a vessel that suits the varied requirements of a busy small port operation and will be based at ABP's Port of Ayr whilst providing pilotage support to neighbouring Troon. The design combines the requirements for pilot duties along with a robust character to allow it to conduct vessel assist operations and workboat duties, which are of utmost importance in smaller ports with only one harbour vessel.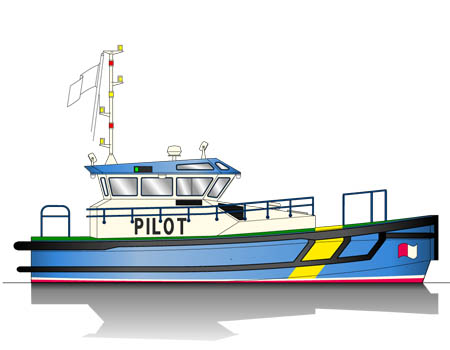 ---
In October 2016, Macduff Ship Design has been awarded a contract for the design of a new 23m General Fish Farm vessel for Inverlussa Marine Services, the third vessel to be designed by Macduff for Inverlussa. The vessel is to be built by Havyard Shipyard in Norway. All parties are delighted to be working on such a prestigious contract.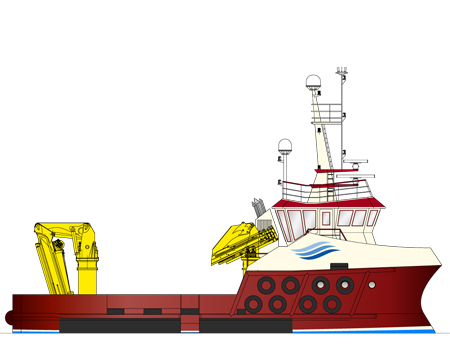 ---
In October 2016, Macduff Ship Design is well on in the design process for a 27m Pilot vessel for Tor Marine, this latest contract from the Turkish yard represents the continuing long term relationship between Macduff and Tor Marine.

---