---
In October 2014, The ATCO NOURA, a steel hulled patrol vessel the first in her class has successfully completed sea trials. The 45m Offshore Patrol Vessel, designed by Macduff Ship Design and built by Tor Marine, completed a rigorous trials schedule. This included reaching its contracted speed of 32 knots. The vessel, which is designed with an operational area of up to 150 miles offshore has a cruising speed of 18 knots.
This design highlights the company's remarkable ability to develop original, fresh and innovative designs in new types of vessels to meet and exceed the needs and demands of the commercial market. The design and build of the vessel has further consolidated the working relationship between Macduff Ship Design and the builder Tor Marine in Turkey.
---
In October 2014, The 17m Tug construction for North Tugz [New zealand] is progressing swiftly at the builders yard Boustead in Malasyia, with the Propeller nozzles, supplied by Kort Propulsion , recently being fitted.
---
In September 2014, Macduff Ship Design has been awarded a design contract for two 19m ASD tugs and five 10.10m Mooring vessels from the Turkish Shipyard RMK based in Tuzla. This will be the second major shipyard in Turkey which Macduff has worked in collaboration with.
---
In August 2014, The 19m Pilot vessel design for Tor Marine has been built as an accurate scale model and tested at the Southampton Solent University Towing Tank. The model tests will allow confirmation of hull geometry abd powering to meet contract speed.
---
In August 2014, The signing ceremony for the Scottish Sea Farms vessels [14.95m Landing craft work boat and 19.80m salmon feed barge - see below] took place at the Macduff Ship Design premises. The contract was signed between John Watt [Macduff Ship Yards] and Jim Gallagher [Scottish Sea Farms] with the cabinet secretary for rural affairs, food and the environment Richard Lochead in attendance.
---
In August 2014, Macduff Shipyards have signed a contract with Scottish Sea Farms to build two 14.95m Landing craft work boats. The vessel based on the 'Emma' a successful Macduff Ship Design vessel built a few years ago is to be capable of carrying 20t of fish farm feed on it's deck.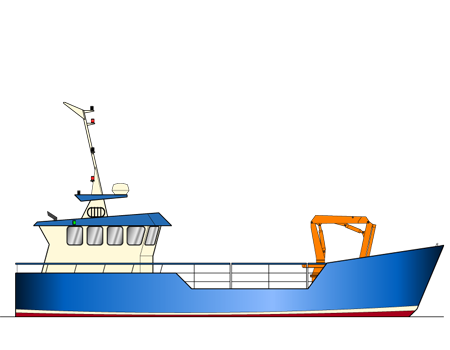 ---
In August 2014, Macduff Shipyards recieved a contract from Scottish Sea Farms for a design and build of four 19.80m salmon feed barges. These purpose designed and built barges are to replace the vessels in current use and will be tailored to better suit the Scottish Sea Farms working operations. Macduff Ship design working with the shipyard are to produce construction plans for the vessels.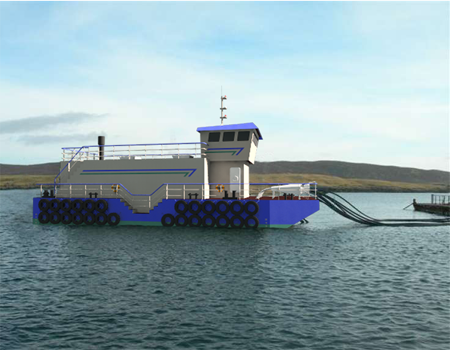 ---
In July 2014, Macduff Shipyards signed a contract for the construction of a 14.94m forward wheelhouse Scalloper, with a main deck casing forward leaving a large open working deck area aft, accommodation is provided for 4 crew below decks. Macduff Ship design working in conjunction with the shipyard will prepare the steelwork and cutting information for this vessel.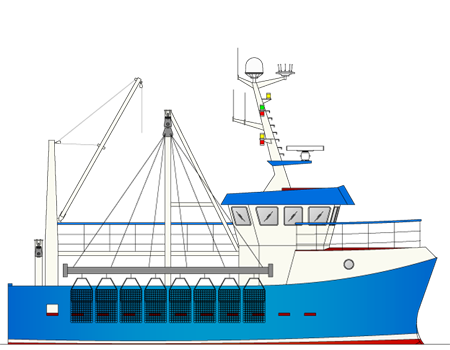 ---
In June 2014, Macduff Ship design was awarded the contract by Moray Council to produce the design for a new 25.7m dredger to replace the MV "Shearwater". The contract was award after a full competitive tender process through Public Contracts Scotland. The new dredger will service both commercial harbours and smaller leisure harbours throughout the Morayshire council district and will also be available for charter. Upon completion of the vessel design Macduff will also work with Moray council during the tendering process which will again be run through the Public Contracts tender process.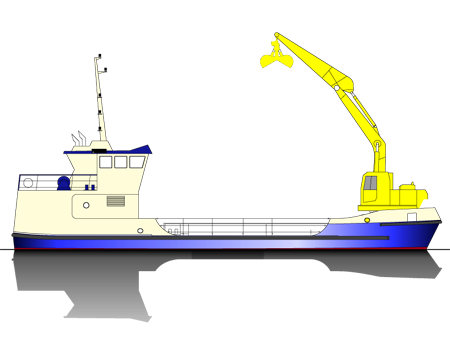 | | | |
| --- | --- | --- |
| | | |
---
In June 2014, The "Tjeerd Jacoba" has re-entered service after major conversion works including the addition of tipping doors a grating deck and an automated grading system with net drums to enable queenie fishing to assist in an efficent produce workflow, enclosed bulwarks and a raised main deck enchance stability, with a full interoir refit including a new fish hold and a modernised wheelhouse to complete the package. All the work was carried out at Macduff Harbour by Macduff Shipyards overseen by Macduff Ship Design.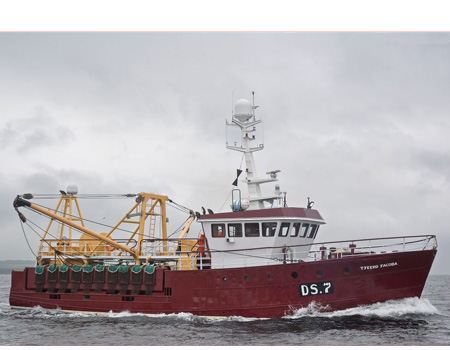 ---
In June 2014, The "Shannon Kimberly" formerly the "St Amant" underwent an extensive refit to enhance Bouyancy and Stability and is now ready to resume scalloping, the work was carried out at Mallaig Boatyard and was supervised by Macduff Ship Design personnel.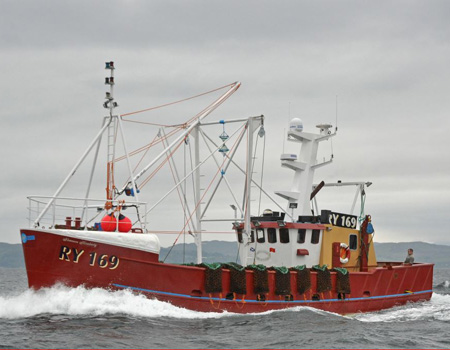 ---
In May 2014, The first group of four vessels as part of the Initial Phase of the Saudi Sea Ports order have arrived safely with their new owner. The second group has also arrived with the owners this group consists of three vessels :- a 15.20m Pilot vessel an additional 46.00m OSB which was used as a transport for the pilot vessel and a 25.00m ASD tug.
---
In March 2014, After 21 years at the helm of Macduff Ship Design, Donald Cameron, the co-founder and Managing Director, has announced his retirement from the company. His successor is Ian Ellis, who has been with the company since 1995 and has been at the heart of the company and it's success. Ian will be carrying on the principals of the company, ably assisted by senior Naval Architect Sandy Reid [a staff member since 1996] and offering the same level of professional service that clients have come to expect of Macduff.
---
In February 2014, Torgem Shipyard, Tuzla, have completed the first four vessels as part of an order for Saudi Sea Ports the vessels are on their way to the owners after running successful trials. The 46m Oil Separation barge is being used as a transport for the two 15m General Service vessels with the 30m ASD Tug completing the convoy.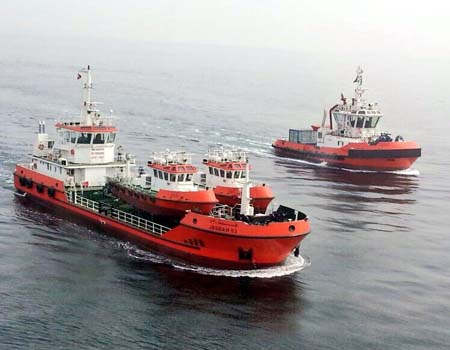 ---
In February 2014,
COLLABORATION SUCCESS
The ongoing collaboration arrangement between the Boustead Heavy Industries Group [BHIG] in Malaysia and Macduff Ship Design in Scotland, initially signed in June 2011, continues to reap rewards.
North Tugz of Northport, MarsdenPoint, New Zealand has placed an order for a new design 17m Macduff harbour tug with BHIG. The vessel will be built at Boustead's Langkawi Shipyard. The towing company originally approached Macduff in 2012 enquiring about the successful 16m "Sally Mcloughlin" class of tug but with an increased bollard pull. Macduff produced a new design to the specific requirements of North Tugz and worked in conjunction with Boustead who tendered the complete project.
Macduff had to satisfy the requirements of the client and Bureau Veritas [BV] in addition to the stringent stability regulations of Maritime New Zealand, to ensure the new design would be suitable for operations in NZ waters. With an overall length of 17m, beam of 8m and aft draft of 3.4m the vessel will have a bollard pull of 28 tonnes from her twin Cat C 32 main engines and fixed nozzles. Capacities have been maximized to ensure a large operating window with 19,000 litres of fuel and 3,400 litres of fresh water. Deck machinery will comprise a 30t forward towing winch, 30t aft towing hook, 2t aft tugger winch and a deck crane with a capacity of 2.15t @7.8m. Manoeuvrability will be enhanced with twin high performance rudders and an 800 kgs thrust bow thruster. Design and layout generated efficiencies and equipment of the vessel mean she will be operated by a crew of 2.
This order marks the first entry into New Zealand for both Boustead and Macduff and was won in the face of major International competition. The working arrangement between Boustead and Macduff offers owners a unique, bespoke service combining tailored, modern designs with high quality, cost effective construction.
Both companies are jointly working on a wide range of commercial designs from 12m to 85m, in steel and aluminium, for various tenders.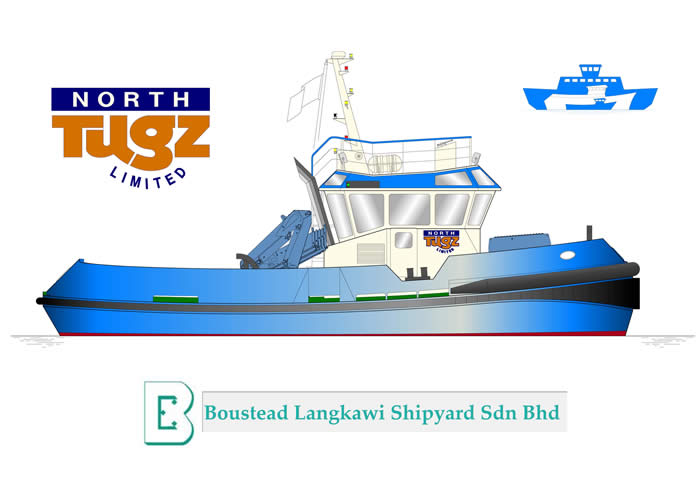 ---
In February 2014, The 45m security boat under construction at Torgem, Tuzla, Istanbul is taking shape with the outfitting now well underway. With a speed of 32 knots the vessel is the first in her class.
---
In January 2014, Ian Ellis who has been with the company since 1995 has been promoted to the position of Director. Ian has been at the core of the company and instrumental as part of the team in the ongoing development of the diverse designs Macduff now produces.
---
In January 2014, The new year started with an order from Macduff Shipyards for the design of a 27.50m General purpose workboat for Inverlussa Marine Services. This is the second such design for this company, the first being the "Helen Burnie" delivered in 2012 and the new design incorporates features to increase flexibility in an ever changing market.
Previous "Helen Burnie"

New 27.5m Design

Owner/ Operator

Build

Design
---
In December 2013, The new 16m tug "Eileen Mcloughlin", together with her sister ship "Sally Mcloughlin" successfully manoeuvred the 108m drilling unit "Blackford Dolphin" into Harland and Wolff's dock in Belfast.
---
In November 2013, The 15m General Service Boat G.S.2 ran successful trials at the Torgem Shipyard, Tuzla. Part of the large order for Saudi Sea Ports the vessel achieved 10.5 knots with her two CAT C12 287 Kw main engines. Classed to BV - I

Hull

Mach, sea going launch the vessel is the first in a series of three.
---
In November 2013, Torgem ran trials for the 25m ASD tug Jeddah 44, the first of two such designs for Saudi Sea Ports. With two Yanmar 885 Kw main engines and Schottel ASD units the vessel achieved a bollard pull of 30.7 T ahead and 28.5T astern. Whilst not classed as a Fi Fi vessel the tug does have Fi Fi capabilities and is classed BV - I

Hull

Mach Tug AUT-UMS unrestricted navigation.
---
In November 2013, The 46m Oil / Water Separation Barge ran trials from Torgem's yard in Tuzla. Another vessel in the series for Saudi Sea Ports, the "Jeddah 53" features a cargo tank capacity of 564 cu.m and is propelled by Cat C12 engines driving Schottel ASD units. Classified to Bureau Veritas to BVI

Hull

Mach oil recovery ship, coastal area.
The design has been produced in close cooperation with Torgem who have a long and successful history building product tankers.
---
In October 2013, Torgem Shipbuilding in Tuzla commenced trials of the series of vessels for Saudi Sea Ports. First to run successful trials was the 30m ASD tug - "Jazan 4". This vessel is the largest ASD design in Macduff's portfolio to enter service and will be closely followed by a 25m variant for the same operator.
---
In October 2013, The 16m Tug "Eileen Mcloughlin" was handed over to her owner John Mcloughlin and Son, after successful trials. With a bollard pull of 24 T and free running speed of 10.5 knots she is a sister ship to the first 16m tug from Macduff, the "Sally Mcloughlin".
---
In October 2013, With the recruitment of Rebecca Barnard, a graduate in Naval Architecture from the University of Strathclyde, joining graduates Matthew Stainsby and Duncan Boag recruited last year, the company continues its policy of nurturing young talent alongside experienced staff.
---
In October 2013, Two of the 23m DOT tugs completed in China for Poet Singapore are now under the Smit Lamnalco banner. They are the "SL KITE" and "SL KESTREL" seen in action.
| | |
| --- | --- |
| | |
| SL Kite | SL Kestrel |
| | |
| SL Kestrel | SL Kite |
---
In October 2013, Boustead Langkawi Shipyard, Malaysia delivered their two 16m tugs based on the incredibly popular "Sally Mcloughlin" design, a "Macduff Forth 16" Harbour Tug.
Tugboats to enhance naval shipyard's services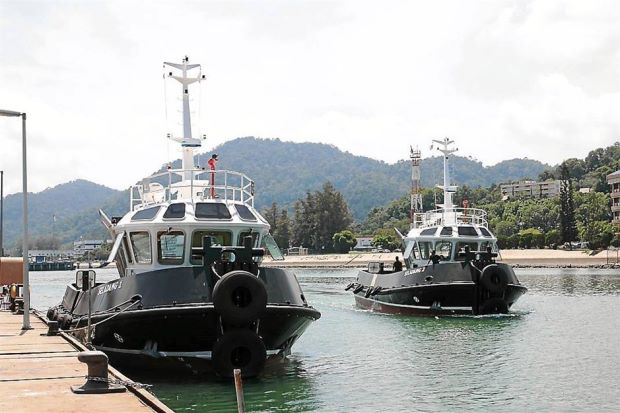 PETALING JAYA: Shipbuilder and defence contractor Boustead Heavy Industries Corp Bhd's (BHIC) strategy to enhance technological capabilities and skills in smaller commercial vessels has reached a milestone with the delivery of two tugboats to the Lumut naval shipyard.
The tugboats (pic), costing RM5.75mil each, were designed by British firm Macduff Ship Design Ltd as part of a collaboration plan to strengthen BHIC's position in the region as a specialist producer.
Boustead Naval Shipyard operations director Datuk Yahya Hashim said in a press release that BHIC had submitted bids for the building of more such vessels to interested parties in the country as well as the region.
He also said the company would be working with Macduff on developing designs for vessels to support the needs of the oil and gas sector. Macduff's collaboration with BHIC has also been renewed for a further two years.
The tugboats would provide harbour support services for the naval shipyard basin, and other support duties for the Royal Malaysian Navy.
[article taken from: Business News]
---
In September 2013, The "Eileen Mcloughlin" was launched ready for trials in October. The vessel is a virtual repeat of the 16m Tug "Sally Mcloughlin", completed in 2009, for the same owner John Mcloughlin and Sons.
---
In September 2013, The 20.35m ASD tug "TSM Brehat" was completed and entered service. The order was based on the successful "TSM Albatre" for the same French operater.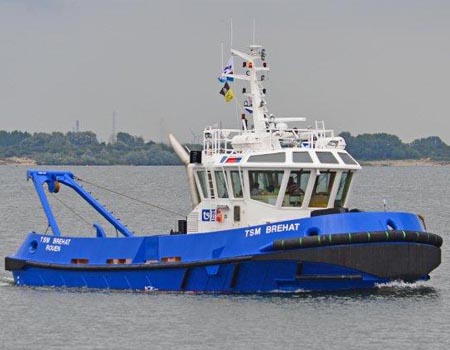 ---
In August 2013, The Akdeniz Shipyard in Turkey completed the 13m Macduff designed tug which formed part of a package of 13m and 9m tug designs. Based on the successful first in class "Fair Maid" this new design features a raised fore deck and highlights the adaptability of Macduff designs.
---
In February 2013, The 23m Mampaey DOT equipped tug - "Ayten Cebi" - ran successful trials. With a free running speed of 11.7 knots and avarage bollard pull of 35 tonnes the vessel has surpassed her contract conditions. Built by Torgem in Tuzla, Turkey the vessel is a result of close co-operation between designer and builder.
---