---
BREAKING NEWS
Macduff Ship Design has opened a new division devoted to marine survey work Macduff Marine Surveyors offers a range of survey types to suit a variety of needs from the Marine sector.

---
In January 2016, The "Warness Lass " a landing craft /workboat built for the Scottish Sea Farms has completed trials and is awaiting hand over to her new owners. She is a near repeat of the vessels completed at Macduff shipyards last year. The order was placed on the back of the success of these vessels, this is the third vessel based on the original design of the "Emma".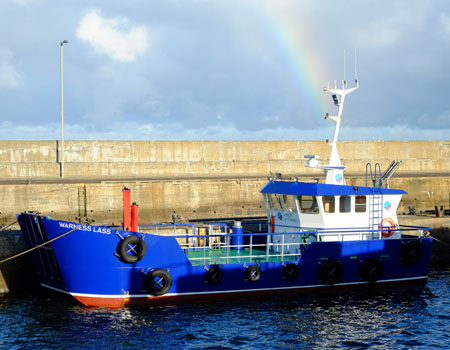 ---
In January 2016, "Selkie" the new 27.5m Moray Council dredger building in Buckie by Macduff Shipyards is progressing apace with all the hull units completed ready for joining and the interior outfitting well underway.
All hull units

Bow and Hopper

Wheelhouse & Casing

Wheelhouse interior

Owner

Builder

Designer
---
In December 2015, Colombo Dockyard launched their 13m Tug a repeat of the successful Fair Maid of Perth, designed by Macduff Ship Design and built by Macduff Shipyards in 2006.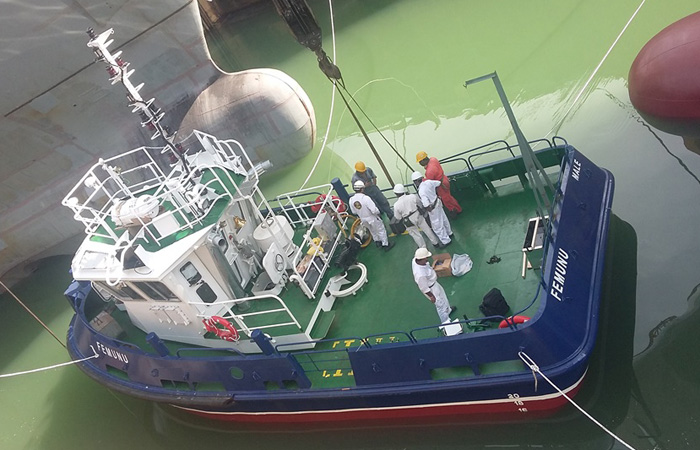 ---
In December 2015, The "London Titan" has been offically named in a ceremony taken place on the banks of the Thames within sight of the Tower Bridge.
---
In Novemeber 2015, "TSM Chausey" a third vessel for Thomas marine services has been completed by Padmos shipyard built using the same hull form of the previous vessel " TSM Brehat"developed by Macduff ship design. This new vessel has been slightly altered with a larger aluminium casing allowing for extra mess, galley and accommodation space.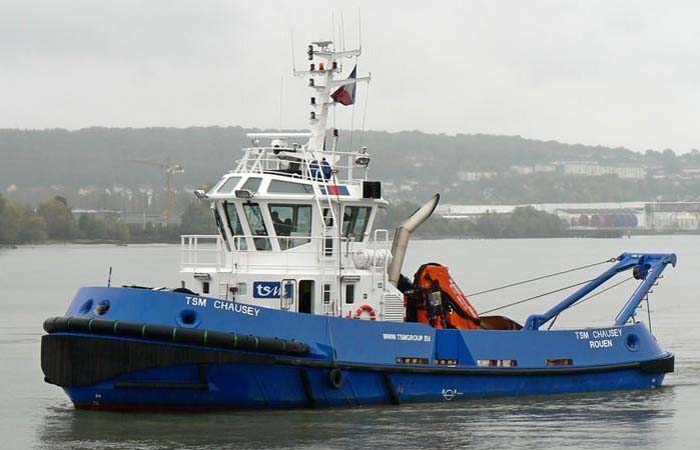 ---
In September 2015, The first of class, 10.10m Mooring vessel built by RMK Marine in Turkey has completed her trials there are a total of five vessel to be built as part of this order. Built to Turk Loydu and to be operated in Turkey to assist with towage and manoeuvring of vessels within the harbour.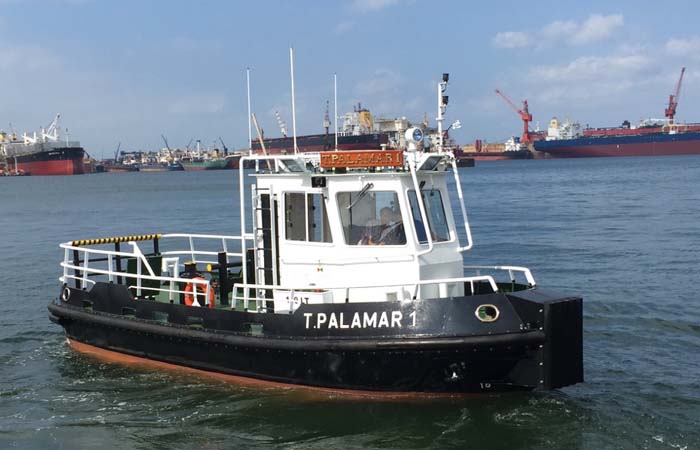 ---
In July 2015, "Kiera May" the second landing craft for Scottish Sea Farms has successfully completed her trials and has performed admirably, this leaves only the fourth barge to be completed to finalise this order.
---
In July 2015, Tor Marine has built an additional 25m ASD tug a repeat of the previous 25m vessel designs, named "Jeddah 45" she has completed trials and is away to her owners.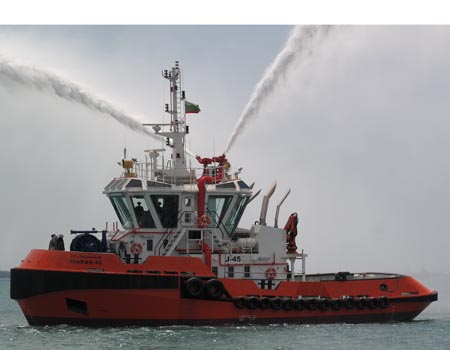 ---
In July 2015, Boustead Langkawi Shipyard has completed the 17m ASD tug built for North Tugz in New Zeland and the vessel is underway to it's new owners.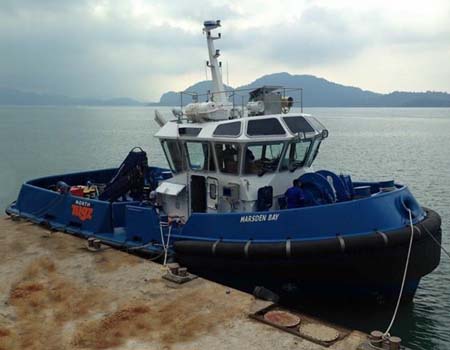 ---
In July 2015, Scottish Sea Farms have put in a seperate order for an additional third landing craft vessel for the Orkney division, a near repeat of the vessel in the previous order, the construction for this is already well underway and has a slight modification to the kit to allow a different engine to be fitted.
---
In July 2015, The order for Scottish Sea Farms comprising of four feed barges and two landing crafts is proceeding at a steady pace with the second landing craft and the third barge almost ready to leave for their new owners, the fourth barge is scheduled for completion by the end of July. All these vessels have performed admirably and have been recieved very well.
2nd Landing Craft

3rd Feed Barge

Macduff Ship Design

Builder

Owners

Designers
---
In June 2015, The "London Titan", a 36.5m Multi Mac designed and built for the Port of London authority is nearing completion and will be making an appearance at the Seawork show prior to handover at the Port of London headquarters in Denton. The vessel built by Manor Marine is one of the largest designs from Macduff to be built and was subject to strict size tolerances to allow the vessel to navigate the Thames, under bridges and along shallower stretches so the vessel can work the entire length of the PLA's area of responsibility.
Macduff Ship Design

Builder

Owner

Designer

---
In May 2015, The 27.30m multi purpose vessel having a registered length under 24m is now in service with Inverlussa Marine Services. The vessel classed by BV is based on the previous vessel the "Helen Burnie" built for Inverlussa in 2012. The new vessel has been modified for a slightly longer length overall and a wider beam to provide a larger working deck rated to carry 125t of cargo and more accommodation along with an uprated towing winch and crane.
---
In May 2015, The new 14.95m landing craft "Julie Ann" built at Macduff shipyards has completed trials and is waiting handover to Scottish Sea Farms. The design is based on a previous vessel the "Emma" designed by Macduff ship design and built by Macduff shipyards. This forms part of an order encompassing four feed barges and two landing craft each capable of carrying 20t of feed on deck..
---
Macduff Ship Design will be attending the Seawork International exhibition in Southampton from 16th-18th of June this year and we look forward to meeting new and existing customers either onboard the London Titan or on our stand C121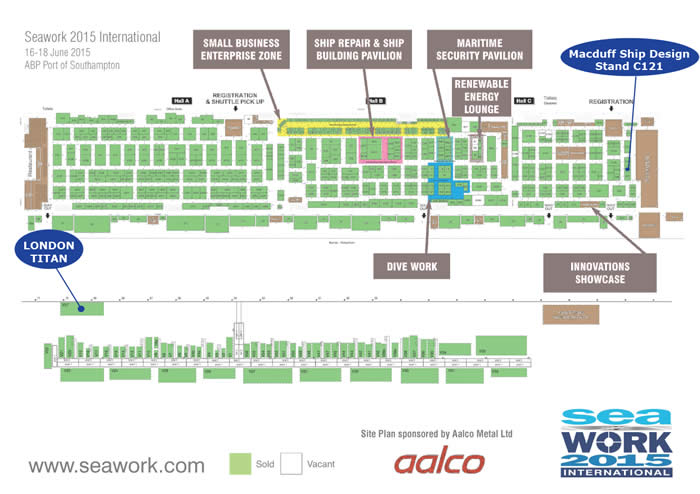 ---
In April 2015, Colombo Dockyard PLC has signed a contract with Macduff Ship design for a repeat order of the "Fair Maid of Perth" a successful 13m general workboat originally design and built for Perth Harbour. This design will have various modifications to suit new owner operational requirements and will be classed to the Indian Register of Shipping, the contract is for the design and production of cutting information with the build taking place in the yard in Sri Lanka.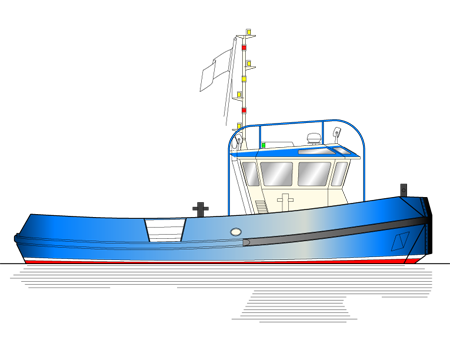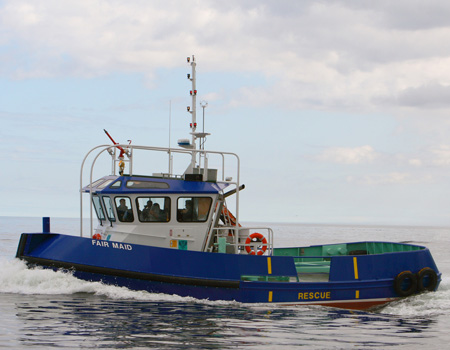 ---
In April 2015, Macduff Ship Design and Macduff Shipyards have been working on a new design for a 21.5m Trawler. This design will be based upon and incorporate hull shape enhancements made to the new design 24m hull form.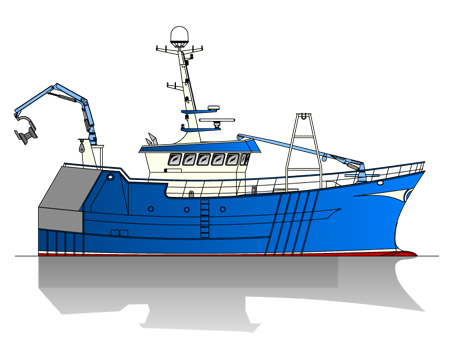 ---
In April 2015, Macduff Ship Design has been working with Macduff Shipyards on a new design contract for three 24m Trawler vessels. The hull form for these vessels has been developed in collaboration with Wolfson unit in Southampton to improve efficiency, give better sea keeping ability and enchance fuel economy.
---
In March 2015,
Macduff Ship Design has taken steps to become a more energy efficient business, installing energy efficient lighting which provides a better quality of light closer to natural daylight giving better working conditions for the employees. The company has also contracted the fitting of Solar Panels to the roof which will supplement the power usage during business hours and also feed energy back into the national grid outwith business hours. Finally the company partakes in a carbon offset scheme for the fuel used in the company vehicle.
---
MORAY DREDGER PRESS RELEASE
In February 2015,
The contract for a new dredger for Moray Council has been awarded to Macduff Shipyards Ltd.
The £2.4million vessel will be a replacement for the Shearwater, which the council sold more than two years ago. The new vessel will be built at Macduff Shipyards' fabrication facility at Buckie harbour which the company acquired last year. Construction work on the 25.7m dredger, which will be powered by two 500hp engines, is expected to be completed by spring of next year. The intention is that the dredger will service Moray Council's harbours – Buckie, Burghead, Hopeman, Findochty, Portknockie and Cullen – as well as being available for hire. The new dredger, which was designed by Macduff Ship Design Ltd, will be capable to dredging to a depth of 8m with its bow-mounted excavator.
John Watt, managing director of Macduff Shipyards, said: "This is a fantastic contract for us which will consolidate our position at the Buckie fabrication facility and provide continuity of employment in the coming year with an increased workforce." The award of the contract was welcomed by Councillor John Cowe, chairman of Moray Council's economic development and infrastructure services committee. "Our harbours are one of Moray's biggest commercial assets and it is obviously important that we keep them accessible to shipping and to the ever increasing number of pleasure craft," he said. "The new dredger represents a significant investment for the council and underlines our commitment to Buckie harbour in particular and to the increasing role which we hope it will play in future economic development in Moray." Moray Council has contracted out its dredging operations since the ageing Shearwater was disposed of to a company based in Rosyth.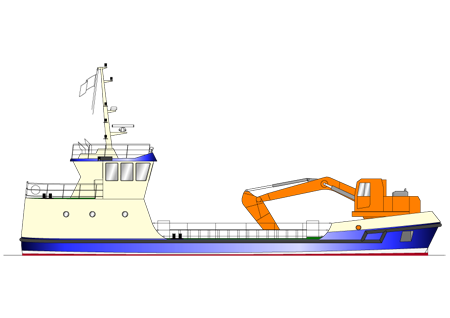 | | | |
| --- | --- | --- |
| | | |
| Owner Moray Council | Builder | Designer |