---
BREAKING NEWS
Macduff Ship Design has opened a new division devoted to marine survey work Macduff Marine Surveyors offers a range of survey types to suit a variety of needs from the Marine sector.

---
In May 2016, Macduff Ship Design and Macduff Marine Surveyors are both looking forward to seeing customers past, present and future at the Seawork Exhibition in Southampton 14-16 June.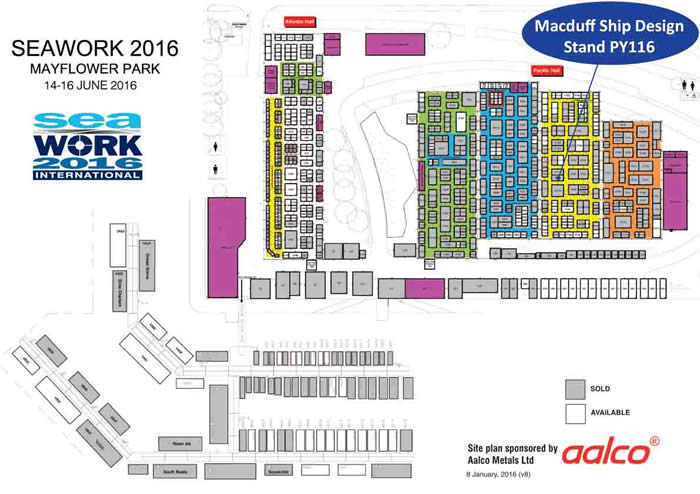 ---
In May 2016, The "Selkie" a 25.70m Dredger has completed her trials performing as expected and is ready for delivery and to begin her dredging duties for the Moray Council.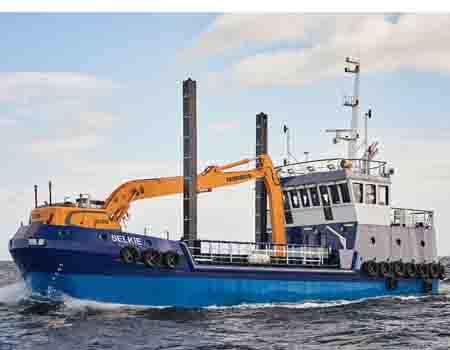 ---
In May 2016, The first of two 19m ASD Tugs built By RMK Marine in Turkey has been delivered to her owner.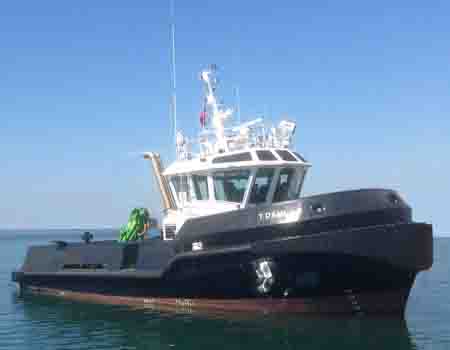 ---
In April 2016, A new 24m Trawler was launched, this is the first of three 24m vessels under construction in Macduff. Built to a Macduff Shipyards design, Macduff Ship Design have been responsible for producing the full steel kit with cutting data and construction plans.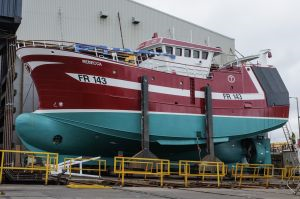 ---
In April 2016, The "Selkie" a 27.50m Dredger for the Moray Council has been Launched at Macduff Shipyards Buckie facility and is due to begin sea trials before handover to the Moray Council. The only dredger in Scotland to be owned by a local authority has been built to replace the shearwater. Designed to operate in smaller harbours she will be used to clean the harbours at Buckie, Burghead, Hopeman, Findochty, Portnockie and Cullen, while not engaged in these activities the vessel will be avaliable for hire.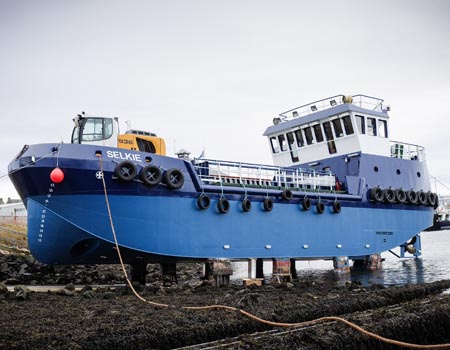 ---
In April 2016, Yard Number 671 built in Poland has been towed to Macduff for the final outfit and machinery installation work to be completed. A 21.50m Macduff Shipyard design, Macduff Ship Design has worked closely with the yard to produce structural drawings for the vessel.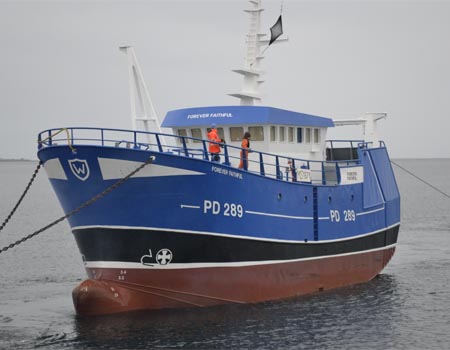 ---
In March 2016, A Macduff Tweed 13 Line handler built by Sepehr Shipyard in Iran has been completed and has undergone her trials performing to expectations, this is the first completed vessel of a total order of four which are to be built.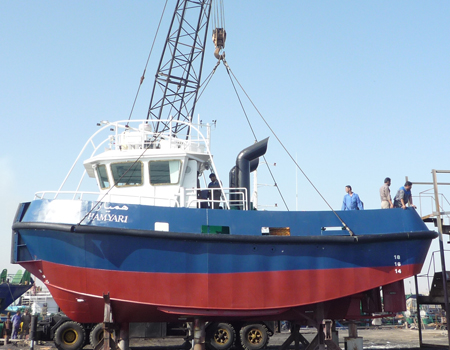 ---
In Feburary 2016, The "Marsden Bay" has now been delivered and has entered service for North Tugz at Northport in New Zealand the 17m tug was built by Boustead Langkawi Shipyard. The vessel was originally based on the incredibly successful "Sally Mcloughlin" however this new design, produced to the specific requirements of North Tugz, increased the overall size of the vessel to 17m length 8m breadth and 3.6m depth. Boasting an impressive 28 tonne bollard pull driven by two Cat C32 main engines and complete with fixed nozzles from Kort propulsion. Deck machinery comprises a forward towing winch with 30 tonne capacity, a 30 tonne aft tow hook, 2 tonne tugger winch, deck crane with a 2.65 tonne capacity at 7.9m, a Hydraulic Windlass and a Capstan on the aft port deck, leaving the "Marsden Bay" a highly capable vessel in the class of small harbour tugs, more than able to carry out her standard towing, pushing, surveying and lifting operations. Classed under BV and also built to conform to the stability regulations of Maritime New Zealand. The vessel is designed to be operated by a crew of two with over-night accommodation on board and large fuel and water capacities giving the vessel a lengthy endurance.

---
In Feburary 2016, The first 14.90m service vessel built by RMK Marine in Turkey has been delivered. This build is part of a larger order for five 10.10m Mooring Tugs, two service vessels and two 19m tugs. The first vessel performed to expectations at trials achieving all the owners requirements including a 16 knot service speed.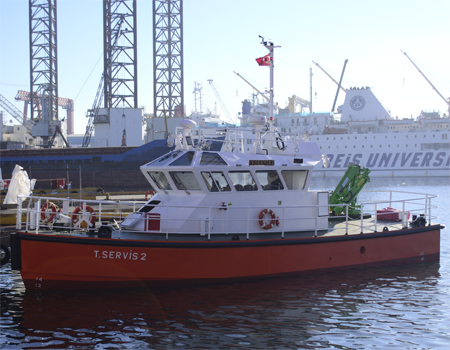 ---
In Feburary 2016, Macudff Ship design is pleased to have recieved two awards from Workboat World magazine Best of 2015 edition. Macduff Ship Design is delighted that it has been recognised for its work again this year. The awards were recieved for the best large patrol boat [Atco Noura] and for the best maintenance vessel [London Titan].

The "Atco Noura" a 45m fast patrol boat built by Tor Marine in Turkey represented a step away from the type of vessels Macduff Ship Design and Tor Marine usually design and build but highlight the adaptability of both companies to work in new fields to produce a vessel to a tight brief and meet the expectations of all involved.

The "London Titan" a 36.5m Maintenance vessel built for the Port of London by Manor Marine was another pioneering project for Macduff Ship Design. The vessel needed to conform to a strict brief to allow the vessel to operate over virtually the entire lenght of the Port of London Authorities jurisdiction along the river Thames. The hull shape was specified to have good sea keeping characteristics while providing a large stable working platform to allow working in the outer eastuary and also in shallow water. The vessel also has a low air draft to allow navigation under bridges upriver as far as Richmond.
---
In January 2016, The "Warness Lass " a landing craft /workboat built for the Scottish Sea Farms has completed trials and is awaiting hand over to her new owners. She is a near repeat of the vessels completed at Macduff shipyards last year. The order was placed on the back of the success of these vessels, this is the third vessel based on the original design of the "Emma".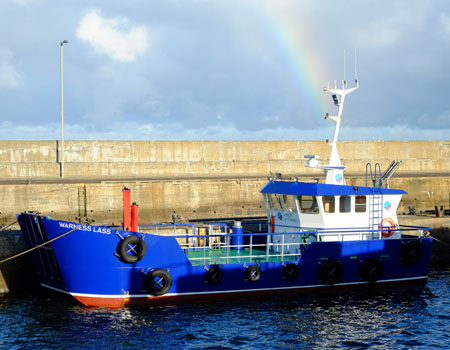 ---
In January 2016, "Selkie" the new 27.5m Moray Council dredger building in Buckie by Macduff Shipyards is progressing apace with all the hull units completed ready for joining and the interior outfitting well underway.
All hull units

Bow and Hopper

Wheelhouse & Casing

Wheelhouse interior

Owner

Builder

Designer
---
In December 2015, Colombo Dockyard launched their 13m Tug a repeat of the successful Fair Maid of Perth, designed by Macduff Ship Design and built by Macduff Shipyards in 2006.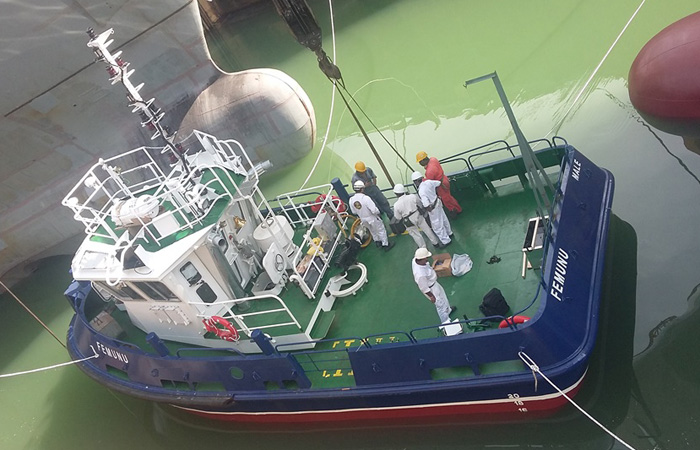 ---
In December 2015, The "London Titan" has been offically named in a ceremony taken place on the banks of the Thames within sight of the Tower Bridge.
---
In Novemeber 2015, "TSM Chausey" a third vessel for Thomas marine services has been completed by Padmos shipyard built using the same hull form of the previous vessel " TSM Brehat"developed by Macduff ship design. This new vessel has been slightly altered with a larger aluminium casing allowing for extra mess, galley and accommodation space.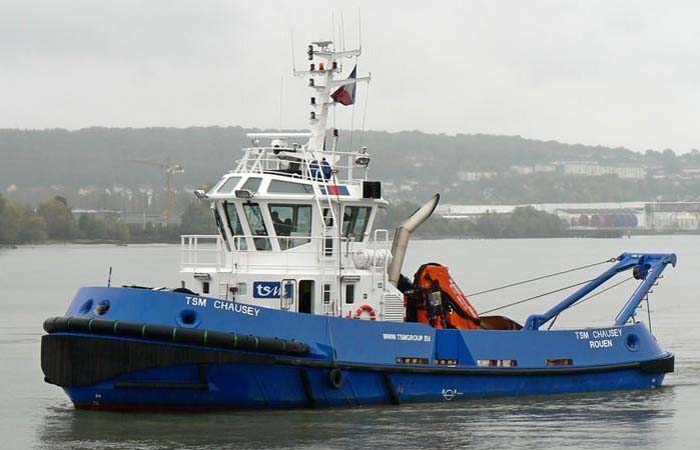 ---
In September 2015, The first of class, 10.10m Mooring vessel built by RMK Marine in Turkey has completed her trials there are a total of five vessel to be built as part of this order. Built to Turk Loydu and to be operated in Turkey to assist with towage and manoeuvring of vessels within the harbour.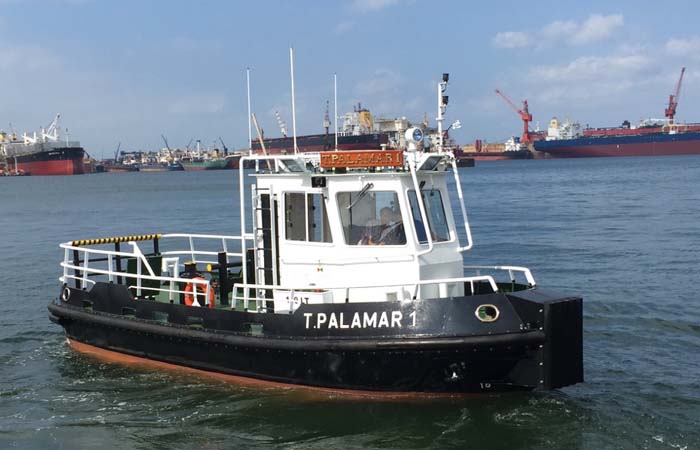 ---
In July 2015, "Kiera May" the second landing craft for Scottish Sea Farms has successfully completed her trials and has performed admirably, this leaves only the fourth barge to be completed to finalise this order.
---
In July 2015, Tor Marine has built an additional 25m ASD tug a repeat of the previous 25m vessel designs, named "Jeddah 45" she has completed trials and is away to her owners.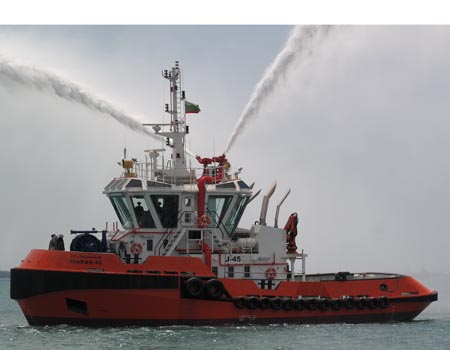 ---
In July 2015, Boustead Langkawi Shipyard has completed the 17m tug built for North Tugz in New Zealand and the vessel is underway to it's new owners.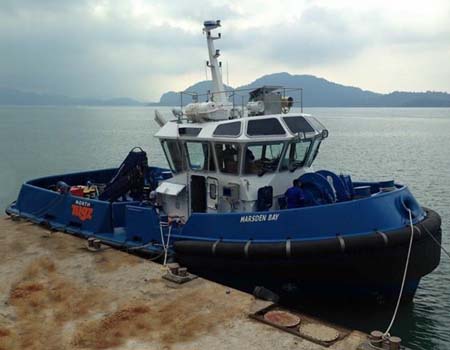 ---
In July 2015, Scottish Sea Farms have put in a seperate order for an additional third landing craft vessel for the Orkney division, a near repeat of the vessel in the previous order, the construction for this is already well underway and has a slight modification to the kit to allow a different engine to be fitted.
---
In July 2015, The order for Scottish Sea Farms comprising of four feed barges and two landing crafts is proceeding at a steady pace with the second landing craft and the third barge almost ready to leave for their new owners, the fourth barge is scheduled for completion by the end of July. All these vessels have performed admirably and have been recieved very well.
2nd Landing Craft

3rd Feed Barge

Macduff Ship Design

Builder

Owners

Designers
---
In June 2015, The "London Titan", a 36.5m Multi Mac designed and built for the Port of London authority is nearing completion and will be making an appearance at the Seawork show prior to handover at the Port of London headquarters in Denton. The vessel built by Manor Marine is one of the largest designs from Macduff to be built and was subject to strict size tolerances to allow the vessel to navigate the Thames, under bridges and along shallower stretches so the vessel can work the entire length of the PLA's area of responsibility.
Macduff Ship Design

Builder

Owner

Designer