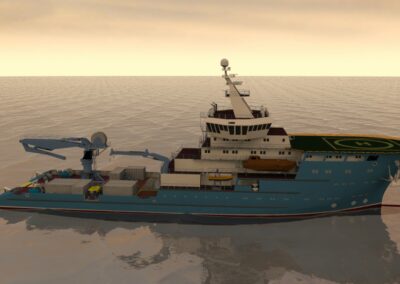 85.00m Dive Support Vessel
Macduff Ship Design have the capabilities to produce VR walkthroughs of proposed vessel which can be viewed through some VR headsets. This type of design and development is great for clients who want to get a grasp of the vessels proportions way before any steel has been cut. 
85.00m Dive Support Vessel
Instructions for use:
Desktop: To look around the vessel, while the video Is paused or playing, click and drag on the screen to look around. Alternatively, the arrows at the top left of the screen can be used to look around.
Mobile: Follow the link on the top of the video to the YouTube app where you will be able to look around the vessel on your device. 
Principle Dimensions
Length Overall:85.00 mLength Reg:75.60 mBreadth Mld:20.00 mDepth mld:8.00 mMax Draft:6.00 m
Capacities
Oil Fuel:1,400,000 LitresOil Fuel [cargo]:800,000 LitresShips Complement Crew:70
Propulsion Machinery
Main Engine Power :2079 Kw @ rpmDrive Type:ASDBow Thruster:YesBow Thruster Power:1500 kwStern Thruster:Yes
Deck Machinery
Four Point mooring system
Saturation diving system for 18 person team at 300m
Wet bell diving system
Deck Towing Winch150 TDeck CraneHeave compensated, 1400 T at 10.0mDeck CraneGeneral Duties, 13 T at 15.0mHelideck suitable for 23m D-Rating12.8 T TOW
Auxilliary Equipment
Harbour Generator 844 Kw
Emergengy Generator 200 kw